The 2021 Subaru Love Promise Customer Commitment Award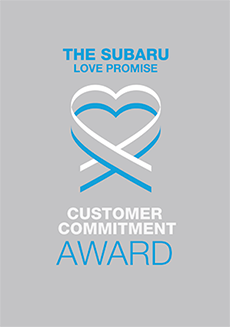 We've been nationally recognized for our dedication to our customers and the Subaru Love Promise.
We're honored to receive the 2021 Subaru Love Promise Customer Commitment Award. This award nationally recognizes Subaru retailers who demonstrate excellence in all areas of customer-focused performance. It highlights exceptional customer service that builds lifelong relationships with Subaru owners.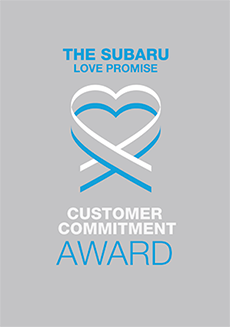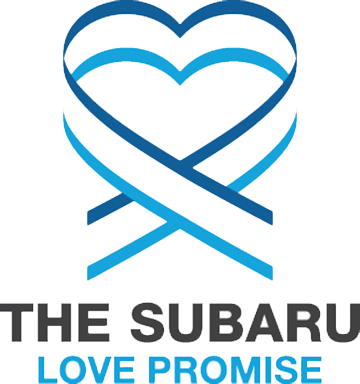 What is the Subaru Love Promise?
Subaru and our retailers believe in making the world a better place and the Subaru Love Promise is our vision of respecting all people. This is our commitment to show love and respect to our customers and to work to make a positive impact in the world.
How is Gerald Subaru of Naperville dedicated locally to the Love Promise?
For over 70 years The Gerald Family has been dedicated to helping make a positive change in the lives of others by supporting our local communities and charitable organizations. We believe in the good work of the charities and groups we support and stand behind their efforts to make a difference in our communities
ADOPT Shelter Naperville, PAWS Chicago
Naperville Education Foundatio, YMCA, Boys & Girls Clubs of America, Big Brothers/Big Sisters
Families Helping Families, Hesed House, Arranmore Center for the Arts, Meals on Wheels, American Red Cross
The Edward Foundation, Turning Point Autism Foundatio, American Cancer Society, Hope on Wheels, Living Well Cancer Research
Love Promise Stories from Gerald Subaru of Naperville
Subaru and Gerald Subaru of Naperville believe in making a positive impact on the communities in which we live and work. We uphold that belief through our Love Promise Community Commitment. Every month, we select inspiring stories from customers and partners from around our area who strive to support our collective commitment and feature them here
FEED THE NEED! - Robert H
Gerald Subaru has been the Premier Sponsor of Feed My Staring Children's Feed The Need MobilePack™ in Naperville, IL in 2020 & 2021. The "Love Promise" was donating 233,333 meals and volunteering to pack theses meals that provided 1 meal per day for 640 children for 1 year! The Feed the Need Community MobilePack™ has produced over 8.5 million meals and feeding over 23,500 children with dedicated volunteers and sponsors committed to saving starving children with a simple meal, Subaru's sponsorship means children will survive! A Christian nonprofit founded in 1987, Feed My Starving Children tackles world hunger by sending volunteer-packed, nutritious meals to 70 countries, where they're used to operate orphanages, schools, clinics and feeding programs to break the cycle of poverty. Last year, FMSC pack 267 million meals to feed more than 732,000 kids daily for a year. The Minnesota-based charity spends more than 86% of total annual donations directly on feeding kids. Your support to Feed My Starving Children and to the kids we are able to feed around the world is an inspiration to us and know we are all making a difference in a child's life. "Turning hunger into hope" In sincerest appreciation, Robert Huebner Co-Founder Feed The Need Community MobilePack™
---
Promoting Health and Fitness in Naperville - Tom H
Naperville Half Marathon Races is thankful that Gerald Subaru of Naperville has partnered with us as Title sponsor of our charity program for the Healthy Driven Naperville Half Marathon and 5K.Promoting health and fitness throughout the Fox Valley communities, the Half Marathon, 5K, and Kid's marathon offers the opportunity to run or walk for a healthy lifestyle. Our Charity program has become one of Naperville's largest fund raiser events helping our neighbors in need raising $450,000.00 in 2019. It is with sincere gratitude to Gerald Subaru of Naperville for being a valued sponsor at this year's event. Tom Horvath Co-Race Director
---
Little Friends Loves Gerald - Jason A
Little Friends Inc. is pleased to submit a Love Promise story on behalf of Gerald Subaru and its impact over the years. Our love story with the dealership begins nearly 30 years ago, thanks to a legacy of support that was established by Neil Gerald who presided over the company for many years. Neil and his wife Ginny have tirelessly supported agencies like ours around the greater Naperville area for many years. Because of their support, nearly two generations of children with special needs and adults with intellectual and developmental disabilities have received key resources in fulfillment of the agency's mission. We celebrate the Gerald's and their continued commitment to support causes like Little Friends through their son Doug who is the President/CEO of Gerald Auto Group. It is Doug's vision and the commitment Gerald Subaru over the past year to which we focus our appreciation for this Love Promise story. Slightly more than 13 months ago the world changed forever when the World Health Organization formally announced the COVID-19 pandemic. Shortly thereafter, many nonprofits, including Little Friends, were soon faced with a grim reality that access to corporate investors and individual donors would likely "dry up" and this could last for many months. Fortunately, Little Friends was able to lean on Gerald Subaru for support during those difficult first few months of transition. We were selected as the Charity Partner for the 2019 Share the Love campaign, and we were presented with a $78,300 check that arrived only weeks after the pandemic officially arrived. Those funds were critical for our agency to receive as we entered those difficult months that followed. Months later, it was apparent our agency was not going to be able to host its annual fundraiser for the first time in 47 years. We introduced a different type of fundraising experience and Gerald Subaru stepped forward as our exclusive corporate sponsor to ensure our success. With their investment of $25,000 nearly all of our expenses were covered, allowing for a majority of the funds raised to directly support our mission. We are in a much better position as an agency because of the commitment and support of Gerald Subaru as our agency continues to navigate the realities of COVID. We are indebted to the leadership team and staff at Gerald Subaru for the positive impact they have had on those we serve and our agency. Thank you, Gerald Subaru, for all the LOVE you have shared over the years from which we are truly grateful.
---
Gerald Subaru steps up during Covid-19! - Christina M
The Covid-19 pandemic has presented the West Suburban Humane Society (WSHS) with many challenges over the past year. WSHS had to cancel many of our in-person events, close our Adoption Center to the public and re-create our pet adoption procedures to minimize contact between adopters, staff and volunteers. Over the past year, the support WSHS has received from Gerald Subaru of Naperville has been very gratifying and appreciated! Gerald Subaru helped WSHS promote its animals online since we couldn't promote them as much in person, Gerald maintained its support of WSHS events even though they were virtual, and Gerald's staff has been a great resource for bouncing ideas off of and collaborating with as we all try to negotiate this pandemic. Thanks to Gerald Subaru of Naperville and their great staff, WSHS has been able to not only weather the Covid-19 pandemic, but to increase our focus on community support for all animal owners. We love our partnership with Gerald Subaru of Naperville!
---
Gerald Subaru helped a dog find his new home! - Christina M
Single dad David recently opened his own business so is watching every dollar. David had also promised his son that they would get a dog as both of them thought their lives could benefit from the love and care a dog brings to a home. David heard about Gerald Subaru of Naperville's and WSHS' Adopt a Dog celebration from a friend and began perusing WSHS' adoptable animals. He made an appointment to meet a dog named Wink, a black and white terrier mix who came to the Chicago suburbs from a rural Illinois county shelter. It was love at first sight and David took Wink home that very day! David, his son, and Wink now make a great trio and are having lots of play sessions and walks in the gorgeous fall weather. Wink even tries to participate in David's Zoom conferences. Thank you to Gerald Subaru of Naperville for helping bring David and Wink together!
---
Gerald Subaru = All In for Stopping Hunger - Catherine B
On a frigid February day, Katy pulled into the parking lot of the Aurora Food Pantry on Jericho Road. She was greeted by a friendly attendant who guided her and Jack, her husband, into a parking space. Katy called in advance and was told that she should arrive early to shop for food at the free market. She looked at her watch – 9:00 a.m. The Pantry would not open to the public for another hour. Katy watched dozens of volunteers unloading and sorting food from a small box truck – preparing for the busy distribution day ahead. The 140 space parking lot was at capacity. This was her first time at the Pantry. Katy and Jack live in a middle class neighborhood. They have been married for 35 years and have 3 children. All children are in college. Jack was always the primary financial provider throughout the course of the marriage – gainfully employed as an engineer. Katy cared for the couple's home and children. Following the youngest son's departure to college, Katy started working part-time for a retail establishment. 1 year ago, Jack suffered a stroke – and never made a full recovery. Jack was soon out of a job and eventually – his healthcare benefits ran out. In spite of her best efforts, Katy was unable to find a job that covered their expenses. As the months passed, Katy and Jack's liquid savings diminished until there was nothing left. Torn, the couple was faced with a difficult decision – pay monthly expenses, including Jack's hefty healthcare costs, or buy food. Katy and Jack chose their expenses and for three weeks – purchased no food. Finally Katy confided to her daughter what was happening. Through many tears on both ends of the line, Katy's daughter helped her to locate the largest food pantry in the region – the Aurora Food Pantry. Katy learned that the Pantry feeds over 24,000 people a year in a free open market. The majority of food at the Pantry is recovered from local grocery stores that – due to consumer driven shopping preferences – would result in perfectly good food being tossed into a landfill. The Pantry recovers this delicious and nutritious food and brings it back to its facility. The food is then carefully sorted by volunteers and organized onto the shelves of the market. When Katy and Jack walked into the market, they were greeted by a friendly Pantry staff member who reviewed the intake paperwork with them. After providing a picture ID and a piece of mail, Katy and Jack were escorted to the waiting area until their number was called to head into the market. Since they were "first timers" – a volunteer was assigned to escort them through and answer any questions. Upon entering the Pantry market, Katy burst into tears and said, "It's a real grocery store!" Her volunteer escort laughed and responded, "We get that a lot." Katy and Jack grabbed a shopping cart and started filling it with items they needed: cereal, canned goods, dry goods, fresh meat, produce and dairy. Jack even spent time picking out cookies from the bakery department. "Chocolate chip!" he said with a smile on his face. By the end of their trip to the Pantry, and after being lifted up by dozens of loving volunteers, Katy and Jack left different than they came in. Katy had this to say, "When we first arrived at the Pantry, we were devastated. We felt so ashamed. By the time we left, we realized that sometimes hard things happen to real people – just like us. The angels of the Aurora Food Pantry reminded us that we don't need to be ashamed to ask for help. After all, isn't that why we are all here? To help each other?" Katy and Jack's story would not be possible without our friends at Gerald Subaru. The Aurora Food Pantry is privately funded - and without the generous support of Gerald - real people like Katy and Jack would not have access to good nutritious food when hard times hit. Aurora Food Pantry Executive Director Cat Battista had this to say, "Gerald Subaru represents a company that is 'all in' for its community. During the same month that Katy and Jack came and visited the Pantry for the first time, I remember Alec McKean showing up with an extremely generous check from the 'Share the Love' campaign. That was a hard month for the Pantry and we were so worried about meeting our financial obligations. And then just like that, Gerald showed up like a guardian angel making sure that no one would go hungry that month. Gerald is truly part of the Pantry family. They come to every major Pantry event and even volunteer in the market serving our neighbors." The Aurora Food Pantry is beyond grateful for its friends at Gerald Subaru.
---
Gerald Subaru + Waterford Place 07-12-19 - Michelle M
Josephine, Sital,and Valerie had just finished a skin care class, complete with a facial and fresh makeup,at the Waterford Place Cancer Resource Center in Aurora Illinois. This class was led by Geralyn O'Brien, a licensed and oncology-focused aesthetician,who assists patients with skin care needs due the effects of cancer treatments. It was apparent by the beauty of these women that these treatments were effective. Alec McKean of Gerald Subaru was also on hand to deliver blankets to the women and display dozens more for those who will arrive in the upcoming weeks. Subaru and The Leukemia & Lymphoma Society are partners in the Subaru Loves to Care campaign, which distributes blankets and words of inspiration from the community to those who are struggling with life-threatening illness. This year, Gerald Subaru of Naperville chose the Waterford Place Cancer Resource Center to be the recipient. During the month of June, Subaru collected hand-written notes with words of encouragement and hope from employees and customers. In addition, they purchased warm, beautiful blankets to share with patients who come to the facility. Kelly Huggins gave us a tour of the center which provides services and support, free of charge, to anyone impacted by a cancer diagnosis. We were able to view the herb and vegetable garden, full kitchen and conference rooms,where they conduct seminars and classes. Patients are invited to attend these events and find solace with others who are struggling with the same trials.The goal of Waterford Place is to provide comforting, understanding and fortifying resources for those in any stage of treatment or survivorship. During these difficult times, patients and families can rely on Waterford Cancer Center, The Leukemia andLymphoma Society and Subaru for comfort and support. Our community is very fortunate to have such caring and compassionate programs that focuses not only on the illness, but also the person. Attending this event was extremely humbling and I was privileged to be part of this program.
---
Subaru Loves to Care - Sharon K
Linda Conlin and I would thank you for your generous donation of blankets for our patients! The blankets are more beautiful than we ever imagined, and our patients will be so appreciative. We will share them with our Plainfield Cancer Center, and the blankets will be given to our new radiation and chemotherapy patients. Thank you again for thinking of and caring for our patients. We are so grateful!
---
Gerald Subaru fights to end homelessness! - Elise M
The Gerald Family and Gerald Subaru have been such incredible supporters of our mission to end homelessness in our community. Their commitment to supporting organizations like Hesed House is truly incredible. We are so grateful to count Gerald Subaru as valued members of our "Hesed Family" and admire all the work they do to make our community a better place!
---
Hesed House Thanks Gerald Subaru! - Carolyn F
The Gerald Family has been amazing supporters of Hesed House through the Annual Kentucky Derby Gala. From the beginning, they were dedicated to the mission of Hesed House and the vision of this fundraiser. With their support and sponsorship, last year's Kentucky Derby raised enough funds to help 312 individuals receive the services needed to become housed once again! Their generosity and partnership is critical in the work that is done at Hesed House!
---